Principal's Welcome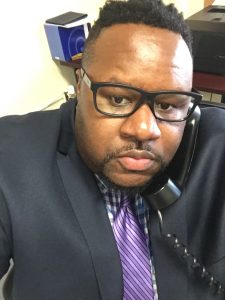 New Message from Principal Thomas
August 24, 2021
Dear Disston Families,
It is hard to believe that the new school year is here, but it is!  We welcome the 2021-2022 school year with optimism and excitement.  We are thrilled to have our scholars return back for face-to-face instruction at Disston.  It is my hope that my welcome message will be just what you need to feel confident and ready to return back to school.  I want to acknowledge that there will be some scholars and families with anxiety about returning back to school.  If you have any specific questions, need information about practices and protocols, or have the need to speak with one of our counselors, please do not hesitate to contact me and I will be happy to assist you!
To minimize the spread of COVID-19, our school follows all COVID-19 health measures required by the School District of Philadelphia. Remember, all scholars must stay home when sick and wear a mask while in school. Please notify your scholar's teacher or our school nurse as soon as possible if your scholar is diagnosed with COVID-19, so we can work with health officials for confidential contact tracing. Together, we can keep our scholars, staff, and community healthy in a safe and welcoming environment at school.
Our school theme is Relax, Relate, Release. It is our desire that we can relax our fears and focus on the work ahead knowing that we will get through this difficult time together. We can all relate to the lived experience of all members of our school community. Finally, let's release the full potential of our scholars and school community at Disston, Home of Good Trouble. As we move forward you will hear me refer to our theme in future communications, in school messenger phone calls, and in our community.  After experiencing a global pandemic together, we certainly all need to have a school year where we can Relax, Relate, and Release.
School Administration Contact Information
School administration is here to help!  You may contact us at any time.
Principal:  Mr. Kareem Thomas  (kthomas5@philasd.org)
Assistant Principal K-4:  Mrs. Tracy Fargnoli (tcmuzyk@philasd.org)
Assistant Principal 5-8:  Mr. Andrew Walker (anwalker@philasd.org)
Climate Manager: Ms. Safiya Elliotte (selliotte@philasd.org)
Again, we can't wait to see you and your scholar as we begin the year.
Peace!
Principal Thomas